Why Giants Ridge Is a Dreamy Family Picnic Area
Date: August 11, 2023
Category: Other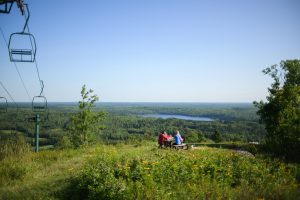 Giants Ridge, nestled in the Minnesota Northlands, is an idyllic area that offers the perfect setting for a memorable picnic experience. There are also plenty of outdoor adventures at Giants Ridge to enjoy when you're done savoring a delightful picnic. Enjoy golfing in northern Minnesota at our two award-winning golf courses, The Legend, and The Quarry. Or you can enjoy Minnesota mountain biking at our lift-served bike park and over 10 miles of cross-country trails. These are just a few of the activities Giants Ridge has to offer!
Here are several reasons why Giants Ridge is the perfect area for a dreamy picnic and memorable outdoor adventures. 
3 Reasons Giants Ridge Is the Perfect Area To Enjoy a Family Picnic
1. Find the Perfect Picnic Area in the Beauty of Giants Ridge
Giants Ridge captivates visitors with its undeniable beauty, enchanting all who venture into its embrace. Whether it's the vibrant hues of autumn leaves, the delicate blossoms of spring, the golden rays of a summer sunset, or the glistening snowflakes of winter, Giants Ridge reveals its ever-changing beauty throughout the seasons. There's no better place to enjoy a serene picnic than at Giants Ridge, nestled in the enchanting Minnesota Northlands area.
2. Enjoy a Picnic Spot Tucked Away From Modern Life Stressors
The peaceful ambiance at Giants Ridge is unparalleled, making it an ideal picnic area. Away from the hustle and grind of urban life, the Minnesota Northlands provides a serene environment that encourages relaxation and rejuvenation. Just a three hour journey from the Minneapolis metro is your perfect chance to escape at Giants Ridge. As you enjoy your picnic, let your cares fade away as you listen to the sounds of birds chirping and hear the rustling of wildlife through the trees.
3. Plenty of Outdoor Adventures To Explore
Giants Ridge offers a wide range of recreational activities that can complement your picnic experience. If you're feeling active, you can take advantage of the numerous underrated hiking trails, disc golf courses, climbing walls, mountain bike park, children's play place, and more. For those who prefer a more leisurely experience, the resort area also offers some of the best golf courses in the country and scenic chairlift rides, providing ample options to complement picnic spots.
Plan an unforgettable trip to Giants Ridge today!